Saint Ambrose and Saint Peter's Homilies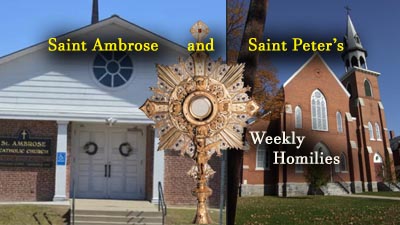 In the final words of Saint Matthew's Gospel account, Jesus told His disciples,

"Go throughout the world and make disciples of all nations, teaching them to observe all that I commanded you."

Listening to and sharing weekly homilies is a great way to evangelize our faith with family and friends who are not able to attend weekly Mass.

As Saint Paul reminds us in Romans 10:17, "Faith comes by hearing, and hearing by the Word of God."
If the newest homily is not shown, type CNTL + SHIFT + R to refresh the page.